Did you know Mexico was once part of le monde francophone?
Eh, ben, oui, and while it was short-lived and never officially recognized in Mexico, it certainly left its mark on Mexican culture.
It all began in 1861 when Napoleon III decided to make Mexico a part of his ever-expanding empire. Taking advantage of the civil war ravaging the country, Napoleon III sent over his troops with an order to occupy Mexico City. French forces landed on Mexican soil in early 1862 and moved slowly towards the capital. Despite suffering a few initial defeats along the way, including the famous Battle of Puebla on May 5th, 1862 in Puebla (commemorated today as Cinco de Mayo), the French finally arrived at their destination in 1863.
Once the military had staked their claim, Napoleon III shipped Austro-Hungarian Archduke Fernand Maximilian and his wife, Charlotte of Belgium (or Carlota), off to the Mexican capital to set up a monarchy. The couple was officially crowned in mid-1864 and thus began what would be the last Mexican Empire.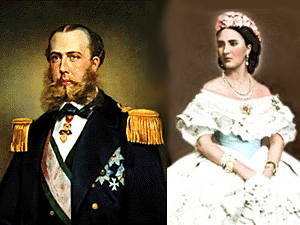 The French ruled through Maximilian for three years, during which time Maximilian and Carlota got acquainted with Mexican culture and politics. Maximilian learned Spanish, adopted Mexican dress, and enjoyed assimilating as much into Mexican culture as possible. As if by symbiosis, as he became more Mexican, the couple exuded French culture as well, introducing la cuisine française through lavish charity parties, hosting European-style balls and banquets, and remodeling Chapultepec Castle (the royal residence) after French architecture.
But despite their genuine efforts in re-uniting Mexico, the Mexican resistance movement slowly brewed in the background. By 1867 it grew out of control and Napoleon III, occupied with other pressing European matters, abandoned his dream of retaining Mexico as French territory. He withdrew French forces and the empire consequently collapsed, although Maximilian was executed by local republican forces before being able to return to Europe.
Outside of politics, this brief period of French presence certainly left its cultural mark in Mexico. Architecturally, Maximilian wanted to build a wide and straight boulevard that resembled the Champs–Élysées in Paris — lo and behold, the Paseo de la Reforma was built.
It is also believed (though highly debated) that the word mariachi originated from the French word marriage, following the presence of Mexican folk orchestra music during French weddings attended by Maximilian and Carlota.
While la baguette certainly did not replace la tortilla, still perhaps the most notable example of France's influence in Mexico was in the food. Spanish terms like baño maria from the French bain-marie made their way into the Mexican culinary repertoire, baked goods like vol-au-vent (a savory, stuffed puff pastry) became known in Mexico as volovanes, and chefs started fusing French cream sauces with local traditional dishes.
So the next time you happen to be in Mexico City, take a stroll through Paseo de la Reforma, enjoy the beauty of Chapultepec Castle, and when you indulge in volovanes give a nod to the French.
Photos borrowed from:
Fine Art America
Gary Rumor's
Banderas News
Never Stop Traveling
La Juani de Ana Sevilla
Sources:
Burciaga, Jose A. "Mexico's Lasting European Influence." Mexico's Lasting European Influence. Free Lance-Star Publishing, May 2007. Web. 01 Apr. 2014. http://www.banderasnews.com/0705/edat-frenchdefeat.htm.
Hursh Graber, Karen. "The French Influence On Mexican Cooking: La Comida Afrancescada." : Mexico Cuisine. Mexconnect, 01 Feb. 2005. Web. 01 Apr. 2014. http://www.mexconnect.com/articles/2139-the-french-influence-on-mexican-cooking-la-comida-afrancescada.
"French Intervention in Mexico." French Intervention in Mexico and the American Civil War, 1862–1867 – 1861–1865 – Milestones – Office of the Historian. U.S. Department of State- Office of the Historian, n.d. Web. 01 Apr. 2014. http://history.state.gov/milestones/1861-1865/french-intervention.